"*Make A MESS Monday :))*"
Jen's Lovely

Or

i

ginal P

os

t Can

B

e Found ~

>

Here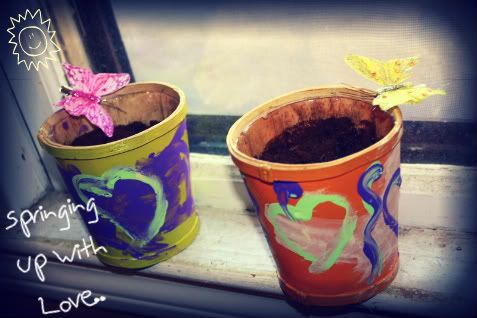 I
t'

s such a lovely SPRING DAY today, a bit windy but
absolutely LOVELY!!
I got home early enough to do some
gardening
around the yard with the
kids. It felt awesome to
be out and about doing
the
simple things I love.
Cal got to ride
his bike and Sia got to fiddle
around
and dirty up a bit ;)).
As we cleaned
up the bushes and turned
the soil, I
remembered Jen's fun post on her
first "Make A Mess
Monday" -- Fun
Spring Planters
w
ith her lil one's,
and simple as
that, we decided we should
go ahead and make our own.
It turned
out to be as messy as it
sounds but LOTS of
fun and
a really lovely outcome...............
Sia helping with gardening in the yard...
Our "Make A Mess Planters"
Seeds (We started on tomatoes and peppers -
We will be transferring them outside in a few weeks)
Awesome and fun little helpers
Lets Spring Up Some Seeds With Love
To begin, we painted some plant pots we bought at the grocery
store for only a $1.
They actually where already painted in green and
orange but we decided to add our own personal touches to the pots.
Painting with children under 5 can be a lot of fun with patience *HA*
We decided to simply do finger painting as the brush was
getting us nowhere anytime soon.
So I allowed the kids
to dig in and
"MaKe a lOt Of mEsS"
Sia had paint ALL over her, from her head to toes, it was pretty funny to watch.
Perfectly messy but with lots of love....
Our Plant Pots Are All DONE ;)))
After painting our plant pots, we gathered some dirt
from
the yard.
Filled up our pots as instructed per the
seed packets,
then proceeded to plant our seeds..
We planted our seeds and watered them. We choose to place
them on the window seal in the kitchen. It's a great location
where we can all
participate in keeping an eye on
them
and showering them
with lots
and lots of love,
until
it's time to plant
them
out
in the garden..We
found
some butterflies from Sia's
birthday
party and
added
them to the plants
to add a touch of spring to them ;))
LOVING THEM A WHOLE LOT!!!
Come back often and check
on the progress of our
plants.. We will post updates as they sprout
out and
prepare to be transferred out into the garden...
It's O

ff

icia

lly

S P R

I N

G

Tom

orro

w....
Spring Into The Season.....:)))

view sourceprint?01 02 12