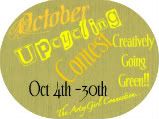 I'm officially trying my hardest to go as GREEN as I can around here!!
Recently, I upcycled some Vodka and Izze bottles to create some awesome
shape thanks to my lil daughter..
How darling..?!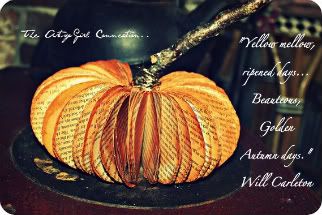 I'm on the hunt to see how many of you have been recycling via UPCYCLING!!!!
I figured, this month
will be a great month to

show

your creativity and green miles
by
creating awesome OCTOBER projects
(Halloween Décor, Party
Favors, DIY around the
house crafts and more) using
RECYCLABLE
materials available to you.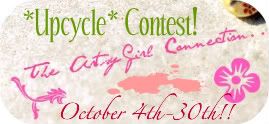 This linky will remain open tonight till October 30th
for you to link up your
UPCYCLED
projects for viewing and voting!
YES – This wouldn't go without
notice!! Link up your projects,
collect votes and win some sweet awesome prizes!!
*A $30 gift card to Michael's & *A DIY Craft Kit
Are you Ready..?
I'm very excited to see all the CREATIVITY!!!
Who's In?!???? Don't Just RECYCLE~~~UPCYCLE
RULES
*You MUST use something RECYCLED
*Link to your actual post not blog homepage
*YES - Upcycled "food" is acceptable
*Please display button in your post for link back
**Be a follower of Kimbas2cents
*Don't forget to COLLECT VOTES "Likes"
*Spread the word..Grab a button pweeease...*
(You can grab the code and display the blog hop as well if you would like)
Visit & share in everyones fun items linked of course :))
Lets Link Away...Lucky Winner Will Be Announced November 1st!!!!!

view sourceprint?01 02 12