Good morning lovely friends stopping in today. Hope everyone is enjoying their
special day dedicated to love and appreciation for our close friends and family!
Anything special YOU'VE got planned..? I am really not a big V'Day fan, never
been but I did get my little ones some special valentines treat for the day!
..............................
*Spreading Some
INFORMATIVE
Love*
I wanted to take a moment to share s
ome fun tips and bits of blog user friendly
information with you that I've discovered overtime t
o help us all enhance our
blogs, to create and advertise the BEST creative blog brands we have to offer!
Blog Loving
~

A Better Blogging Series!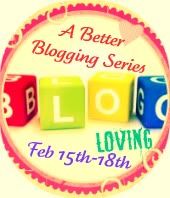 I will be hosting a Blog Loving Series (A Reader's Perspective)
starting this
Thursday
alongside 5 other lovely
and experienced fun
blogs if anyone
is
interested in joining!!!
It'll
feature FREE BLOG CRITIQUING activities
from anonymous reader's
of yours
to share their insights on your creative
spaces
and help you
enhance
your reader's
overall experience during their visit to your blog! You can sign up
HERE for now
but the series / post will be officially open and public this Thursday!!.
.........................................................
BLOG and what knowledge
I have developed over time. I would LOVE to hear
your perspective to enhance anything, pick up a new "Know How"a
nd any
information
YOU have to offer as well, so PLEASE feel free to share..
"We are ALL in this together as Jane will say!"
Have you ever wandered WHERE and HOW you gain or get traffic to your
blog..?
Worry NO more!. T
oday, you can check your blog statistics by simply
heading
over to your "Design Tab" of your blog and
clicking on the second
tab next to
design
"STATS"

. Stats is an incredibly amazing featured tab
that allows you to
view and track your traffic sources from all time to even TODAY pertaining
to
where and when reader's gravitated from to your blog and their interests!
Determine Your STATS
~ Social Media &

Networking ~
What can you determine from knowing your stats..?
A GREAT overview of how your blog is performing in terms of *Traffic Source* .
Which posts where a HIT? Which Topics seem to interest your reader's more..?
Are you gaining more visits from social networking..? Which ones..?
How can you improve upon your social networking
with your reader's, friends and for your brand..?
……………….
Social networking channels are great tools to use to promote your creative
showcase on your blog. YOU are
YOUR BEST promoter! By applying to
social networks and doing some actual networking with friends, you can GAIN
so
much back
in return! Pinterest, twitter,facebook and social media tools
of the
likes
plug
into Google, allowing your blog great hits in terms of search bars
all around
the GLOBE! By commercializing your brand through networking, you can gain
further access to reader's and interested parties all
around the world you
would NEVER think of reaching!!!
................
Tweet Tweet Tweeeeet!Retweet!
Tweet YOUR STUFF! Promote YOUR creative posts Via twitter
(You'll be surprised HOW FAR A RE TWEET can travel!)
To encourage your bloggy friends to lend a hand with promotional assistance and
spreading the word o
n things you've created, HELP them out by retweeting posts
you find interesting as well. (One hand washes the other and i
information can
SPREAD like wild fire via twitter between #hashtags and
Retweets!)
REAP REWARDS from
Your social media…
* Facebook Interactions*
Your facebook page should not just be a source of collecting "Likes", use it as a
tool to interact with some of your reader's t
hat spend more of their social networking
time via facebook rather than blogs. (I am guilty of not using my facebook page a lot,
BUT when I do, it's nice to see how many people respond!) Check your interaction
stats on facebook or subscribe for
monthly feedback's on how your page
is used by your subscribers to stay informed on those stats!
*Pin Away For Day's*
I'm On PINTEREST! Are YOU..?
We spend a LOT of time pinning away other's creative niche and idea's for hours on
pinterest, why not do the same f
or YOUR crafts, recipes and more..? It's VERY
effective
to ADD your own board to pinterest to feature YOUR sole creativity
dedicated
and
LINKED BACK to your blog. Repin's can travel VERY far and it'll surprise
you how
many pin's can
derive from ONE repin across the web! Always check
your
pinterest
stats, see who is repining and what they a
re repining of yours.
I heart pinterest
and
so does the world, why not show yourselves a little love???
ADD a "Pin'It"
button
to your posts, and always POST your final products to your personal blog
board
o
n pinterest (this avenue will serve as advertisement to people who might
NOT be
reader's of yours but seeking idea's pertaining to something YOU created!)
* Content Safetey / Advertisement *
Did you know that you can use your stats to find and pick up links that have hosted
your work t
hat you do not necessarily know about..? It's sometimes aggravating to
know that a post w
as used, suggested and the likes without your knowledge, but in
this day and age, it's hard to k
eep track of ALL your information no matter
how hard
you try. It's great to stumble across an honest f
ew, who link back, mention or direct
their reader's to where an idea derived from and mention your source. Using stats,
you
can pick up on those links and be able to visit the many blog's that took a moment to
mention YOU as their source for inspiration, but
didn't have time to let you know..
...................
Go on, browse around and see where and who displayed or mention your
beautiful features!
This feature in Stats is one great one to frequently check out
and
pay those blogs a visit to say thank you, read another person's
perspective
of your
shared idea and see what other reader's not familiar to you think about
your creativity
and features!
Knowing your stats is a GREAT resourceful tool to
getting to knowing
the true value of your blog and your features!
Scroll over
whenever you can, and enjoy
knowing how far you've traveled
and cater to
the needs of t
he most interesting
topics and posts of your readers.
Show YOURSELF a little love that pays off effectively!
DO YOU KNOW YOUR STATS!?! GO CHECK!
...........................
Hope I helped a bit in knowing a little more about your blog and collecting
data on statistics pertaining to how your blog is doing. Please feel free
to share your own insights and idea's that you've learned and stumbled
upon. Would LOVE to hear your point of view and tips.
...........................
SIGN UP FOR A FREE BLOG CRITIQUE SESSION
FROM AN ANONYMOUS READER *HERE*
This months session will be public and open to apply for
tomorrow,
but don't
wait, enter today and get signed up..
Wishing YOU all an amazing midweek!
~Stay Artsy~

view sourceprint?01 02 03