Hello there, thanks SO much for joining in on the series,
it opens up tomorrow but please feel free to go ahead and sign up! This
list is the official list that will be posted alongside the official post tomorrow!
Blog Loving
~

A Better Blogging Series!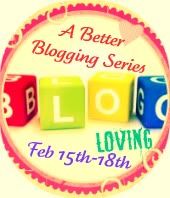 To ensure that everyone has a fair chance to enter and great blog
review, we
ask that
you enter only ONE blog you write/own.
THE LIST WILL CLOSE AFTER #60!!
1. YOU GET AN ANNONMOUS BLOG REVIEW BY AN ASSIGNED READER
2. YOU IN TURN GET TO REVIEW A BLOG ANONYMOUSLY!
To read and find out more, please stop in tomorrow when the series opens..


* THANKS SO MUCH FOR JOINING IN *
.......................
view sourceprint?01 02 03