Happy Pin'inspiration Day
and so very glad that you are here.
Jane and I are working on the final touches of our 'evil master plan'
to make this party even bigger and more fun for you.
Stay tuned next week, same Bat Time, same Bat Channel.
In the meantime let's celebrate everything that you accomplished last week.
We love EVERYTHING that you were kind enough to share and
more than a bit amazed at how extraordinary you all are.
Please remember to grab a button (or two, JUST WAIT
UNTIL YOU SEE THE NEW TREAT) if you are featured.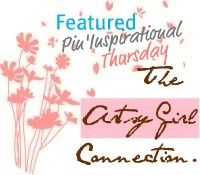 * So, what features did we love the most..?
ALL --- Seriously!! But here are the ones
we couldn't
resist spot lighting and sharing with you today!*
Top Pin'Inspired Features
.........................
My dream banana pudding ~ yummmy!!!
Via ~ Our Delightful Home
Go Green With This Amazingly Awesome Tropical Smoothie
Via the lovely Live Pray Design
How darling is this creative planter box via
Via the wonderful Mom On Timeout
.........................................................
and uuuum, I simply couldn't resist adding these brilliant garden markers via
Etcetorize ~ Stone Garden Markers!
Awesome Features All Around Right..?
Thanks SO much al always to all who stopped in and shared!
We Sincerely REALLY Appreciate YOU!
* A couple of things to remember *
It's awfully nice to follow your hosts. Please join our blogs and keep in touch!
Please visit around and meet some fun new blogger's and be inspired.
Everyone likes to meet someone new.
Ready To Party..? Lets Kick It Off!!
view sourceprint?01 02 03